Amazon Smiles Program
If you have not done so, please take a few minutes to set your Amazon Smiles recipient to the Panther Creek Band Boosters.
Signing up does not change the price you pay, but Amazon will donate a small percentage to the Boosters.
Just go to this link: http://smile.amazon.com/ch/03-0594433
Scrip Program
Earn credits towards your student's band account by participating in the Scrip program. Scrip offers big earnings with no selling — it's fundraising by simply shopping where you already shop! With Scrip, you raise money by changing your method of payment (direct bank debit instead of credit card). Once it's up and running, Scrip fundraising is simply integrated into your everyday life.
Families participating in the last 12 month period earned a combined total of $3472 towards their student accounts. In addition, the general band fund received $385 during this period.
A total of 19 families participated last year – that's only about 10% of all band students! Let's do better this year by raising even more this year for our student accounts and the general band fund.
Pura Vida Bacelets
The first student fundraiser of the year will be sales of the highly sought after Pura Vida bracelets! Only $6 for this awesome bracelet!! Available for purchase during Band Camp. Limited quantities so first come first served. Don't miss out!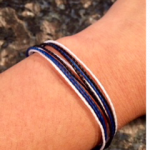 GoPlaySave
For every $30 book you sell, YOU get $7.50 into your band account to offset dues. Additionally, $7.50 goes to the marching band. It's a win-win!
GoPlaySave has over $12,000 in local savings to amazing restaurants and fun places in the area. The list of businesses still includes Dick's Sporting Goods, Omega Sports, Ace Hardware, Kroger, AC Moore, Brixx, Gap, Jersey Mikes, and many more. Remember, Harris Teeter accepts the Kroger coupons.
Go to www.goplaysavetriangle.com/store/PCHSB2019 to create your personal link and email or text it to friends, co-workers, and family to help raise money! You will receive an email every time you have an online order. Mobile book purchases can be used right away.
Pick up books in the carpool circle on Thursday, August 2 at the end of the evening practice 8:30-9pm, or on Friday, August 3 at the Informance. If you need to get books at a different time, just email Cathy at [email protected].